Country Brook
A Rental
Condominium Property
- with a beautiful brook
flowing thru complex.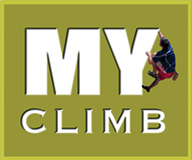 MyClimb
A Climbing App Company
- all things climbing!

International Association of
Financial Crimes Investigators
A Logo for the Florida convention.

Friends in High Places
An International Mountaineering
Guiding Company
- guides in day & night, rock & ice.

Idea Architects
A Book & Media
Developement Company
- helps visionaries finish their ideas
into books and other media.

Solidus Engineering
An Engineering Company
- experts with software
that converts planned line drawings
into simulated solid structures.